Engaging students, empowering teachers:
Toward quality education​
Achieving quality education in the context of English language teaching and learning through student engagement and teacher empowerment has always been an aspiration of the Department of English, Universitas Negeri Malang (UM), Indonesia. It is the goal that underlies the ways the teaching and learning process within the department is carried out as well as underlines the Department's vision in conducting teacher training and education. Engaging the students is by no means a simple task. It involves teachers' and students' being innovative, reflective, experimental, and encouraging so that the teaching and learning process can be motivating, engaging, and effective. It also emphasizes the needs for teachers to continuously seek ways to empower themselves in keeping up with the development in the field and globally changing world, so that they can facilitate learning opportunities for students of diverse backgrounds using various available tools, from print to digital resources, and from classrooms to out-of-class environments.
Bearing in mind this vision, the 2018 iNELTAL Conference takes on the theme of "ENGAGING STUDENTS, EMPOWERING TEACHERS: TOWARD QUALITY EDUCATION". Tapping on the main theme, the conference aims to gather postgraduate students, university lecturers, and school teachers from different parts of the world to discuss and address topics in the context of English language teaching and learning such as:
Cooperative learning
Project-based learning
Task-based learning
Intercultural approaches to learning
Integrating literature and pop culture
Using authentic materials
Autonomous learning approaches
Integrating ICT in learning
Teacher leaderships
Teacher professional development
Learning by/from doing research
Reflective practice
Teacher learning community
Lesson study
Educational policy
Teacher training and education
Educational partnership and collaboration
Creative teacher projects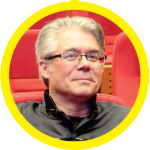 Derek Irwin
Dr. Derek Irwin is an Associate Professor in Applied Linguistics at University of Nottingham Ningbo China (UNNC), and a Senior Research Fellow at University of Nebraska Medical Center (UNMC). He is the co-author of several writing guides for post-secondary students, and in his free time is a creative writer, director and actor.
Hayo Reinders
Dr Hayo Reinders is Professor of Education at Unitec in New Zealand and TESOL Professor and Director of the doctoral programme at Anaheim University in the USA. Hayo has published over 20 books and 100 articles in the areas of autonomy, technology, teacher education and out-of-class learning.
Utami Widiati
Prof. Utami Widiati is the Dean of Faculty of Letters, Universitas Negeri Malang (UM). She has published extensively in the areas of  curriculum and material development, SLA, and teacher professional development.
Important Dates
Deadline for abstract submission: 30 July 2018 (no extension)
Notification of abstract acceptance: 10 August 2018
Full paper submission: 29 September 2018
Deadline for registration and payment: 29 September 2018
Conference date: 27 – 28 October 2018
Conference Fee
Indonesian Presenters: IDR 800,000
International Presenters: USD 70
Indonesian Participants: IDR  500,000
International Participants: USD 40
Payment via bank transfer should be made payable to:
Bank Name :  MANDIRI
Branch :  Malang Galunggung
Bank Account Name :  Nabhan Fuad Choiron
Bank Account Number : 144-00-1751678-9
Important Links
Abstract submission form: bit.ly/ineltal2018abstract
Registration form: bit.ly/ineltal2018registration
Commitee
Steering Committee :
Prof. Utami Widiati, Dean of Faculty of Letters, UM
Dr. Primardiana H. Wijayati, Vice Dean for Academic Affairs, Faculty of Letters, UM
Dr. Johannes A. Prayogo, Head of Department of English, Faculty of  Letters, UM 
Organizing Committee :
Chairperson : Dr. Anik Nunuk Wulyani
Secretary : Nova Ariani, M.Ed.
Treasurer: Dr. Niamika El Khoiri
                    Hasti Rahmaningtyas, M.A.
Divisions :
Abstract and Sessions : Nur Hayati, M.Ed.
Secretariat :
Rahmati Putri Yaniafari, M.Pd.
Nindyasari Nastiti
Ibnuz Zaki
Kresna Dharma
Afif Azmi Laili Rachmah
Nurul Izza
Design :
Inayatul Fariha, M.A.
Himawan Prakosa
Proceedings and Publication :
Nunung Suryati, Ph.D.
Nabhan F. Choiron, M.A.
Transportation and Accommodation : M. Luqman Hakim, M.Pd.
Food and Beverages :
Maria Hidayati, M.Pd.
Hasti Rahmaningtyas, M.A.
Ceremony and Entertainment : Tri Wahyuningtyas, M.Si.
Documentation and Properties  :